On Remembrance Day, on the eleventh day of the eleventh month at the eleventh hour, we recall all those who have served in the nation's defence and honour those who have fallen for our freedom.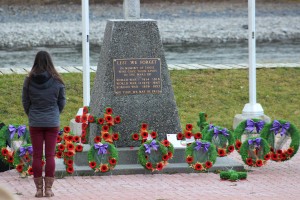 At school we have our Remembrance Day Assembly on November 10th, since the school is closed on the 11th.
This year students recited poems and we watched two video's. The first one was about a fallen soldier who was send home, how all his comrades said goodbye to him and how honor was bestowed on the soldier on his last trip home.
The second video was about the Minute Of Silence. A trumpet played The Last Post.
All student and staff observed the minute of silence.
On November 11th  the regular Remembrance Day Ceremony will be held at the Cenotaph in Old Hazelton.
Please join us.
Lest we forget.