We are very excited to be welcoming our students back to Hazelton Secondary School for the coming year.  There really is a lot to be excited about.  We are welcoming Brian Muldon to the Vice Principal's chair after serving as Principal of Kispiox school, and he has got a lot of great ideas on how we can make the learning experience at HSS better for students, staff and families.  We look forward to having Brian as part of the HSS team.
We want to remind parents that while COVID protocols are being relaxed around the province, Hazelton Secondary School will be a  safe place for your child to come to school.  We will be releasing our prevention program later this week that will outline everything we will be doing in the school to ensure your child is entering a building that is both safe and promoting of learning.  Our students are at the lowest risk of infection and we will continue to work with district and health care professionals to ensure we provide the best learning environment for students.  However, if you have any questions or concerns, we encourage you to call our COVID Information line where you can leave a message, to which someone will reply within 24 hours.
Finally, for families that are getting set for next week, we have included a list of recommended school supplies.  We are looking forward to having everyone back in what is sure to be the best year yet at Hazelton Secondary School!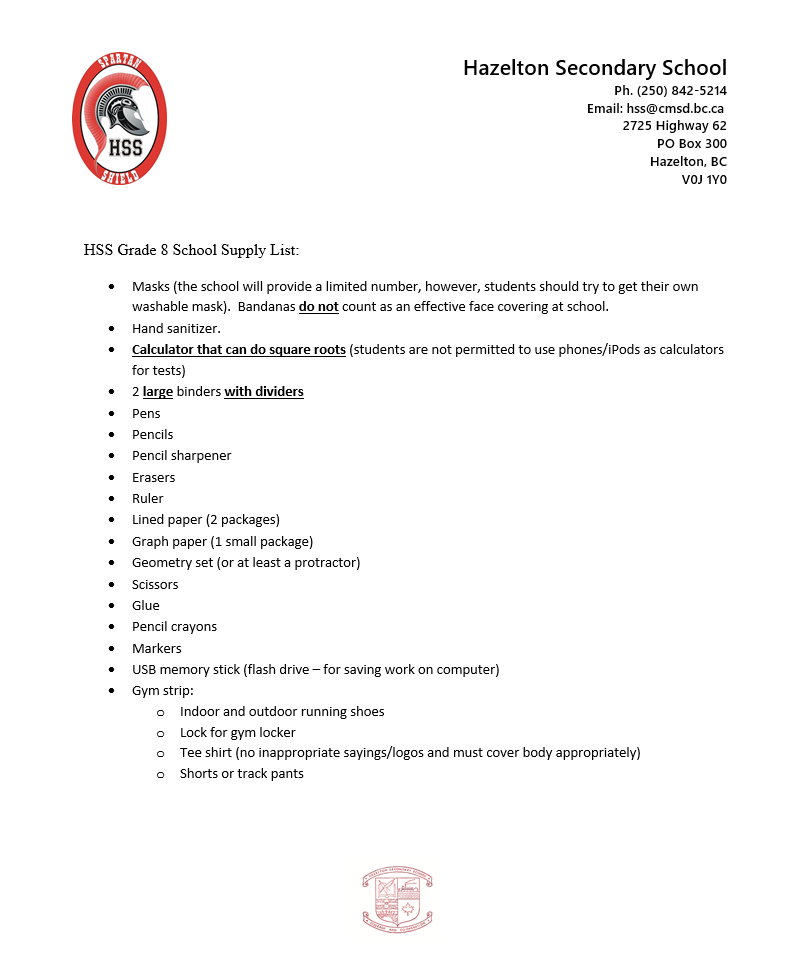 Click on the Supplies List for a printable version of the list